Monster 6 (A.K.A. Bekka) is the sixth monster encountered in the Karamari Hospital DLC.
Appearance
Gameplay
Endless Mode
Audio
Trivia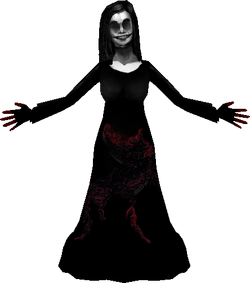 Appearance
She now has a fully 3D model only present in Endless Mode; she still uses her 2D sprite in Karamari Hospital.
Gameplay
She now appears in both New Game and New Game +. Her Endless chase has been reworked.
She has her own starting room which looks similar to where she appears in the Karamari Hospital DLC. The player will have to go down the "endless hallway", that now has a regular door at the end. She may or may not appear at the door when the player approaches it. After crossing the door, the chase will begin.
She now appears randomly at the exit door, and will slowly approach the player when they get close. She will chase the player for a few seconds before disappearing with the screen flashing black.
It is possible to avoid her damage completely by getting very close to the door and retreat right after she spawns. She sometimes does not spawn and only spawns from one door per room, meaning rooms with multiple doors can give players a higher chance to avoid damage. She is immune to both weapons. Her original overlay was replaced with a fog overlay.
Trivia